Explore Newtown's Historic Places: Upham Japanese Tea Garden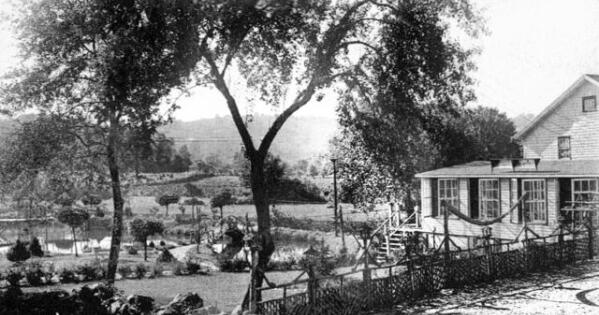 [ad_1]
Learn about the past and present of some of Newtown's lesser-known historic sites by The Newtown Beeis a new series dedicated to retracing the role these places once played in the city and what they are today.
Previously: Upham Japanese Tea Garden
Currently: Big Buddha Cigar Lounge
Site: 27 Hawleyville Road in Hawleyville
When was it built or established? According to city records, the two-story building was constructed in 1850.
What is its historical significance? In June 1928, a local entrepreneur by the name of William Upham (1880-1949) purchased the building on the west side of Route 25, just north of the railroad tracks, to use as a tea room, which were common attractions for this period. .
On the same road he had opened The Upham Food Products Plant years before, where he made his invention of the tea ball (the predecessor of the tea bag) and made a significant fortune.
In A mosaic of Newtown history by Newtown historian Daniel Cruson, he revealed that "His father had served as United States tea commissioner under Presidents Cleveland and McKinley, which explains William Upham's later interest in tea and its packaging."
Mr. Upham became well known in Newtown for his businesses, as well as having lived on the corner of Hanover Road and Dinglebrook Lane with his wife in what people called "The Chateau".
In the 2003 article "Sleepy Hawleyville Was A Lot Livelier 100 Years Ago – The End Of Land's End Road", The Newtown Bee reported that Mr. Upham was even responsible for laying the road from Hawleyville to Highway 6.
"In truth, Upham was really the one who put Hawleyville on the map," Cruson said in the article.
Part of that positive reputation has come from the spectacular draw of Upham's Japanese Tea Garden, a place he created to house his extensive collection of Japanese and Chinese antiques and furniture.
"It consisted of a modest private dining room, a reception area, an oriental gift shop and, to the west, an enclosed porch that overlooked the pond. The scenery was further enhanced by electric lights which were placed all around the pond and bridges to create a stunning effect at night. It was Upham who was responsible for bringing electricity to Hawleyville in 1928, first for its tea house and factory, then for all those who wanted to connect to the lines ", A mosaic of Newtown history describe.
There were also rowboats and canoes on site for guests to enjoy and public baths for those who wanted to change into swimsuits and sit outside on the sandy beach.
In 1930 the pond was enlarged and an island was built for an 18-hole miniature golf course because, as Mr Cruson said The Newtown BeeMr. Upham was "a miniature golf fanatic".
The golf course was considered one of the largest in Connecticut at the time, and since it was outdoors and could not be played during the winter, Mr. Upham purchased a larger building to house an 18-hole indoor miniature golf course.
The Tea Garden remained a popular local landmark in the city through the late 1920s and early 1930s.
"It was a hobby, however," A mosaic of Newtown history says, "and whether he gets bored or starts losing money in the depths of the Depression, he closed the entire resort just a few years after the indoor golf course ended."
What occupies him today? Upham's Japanese Tea Garden may have closed over 80 years ago, but its building still stands. Today it is home to the Big Buddha Cigar Lounge, owned by Newtown resident Bryan Roth.
The company has been open since 2010 and sells over 400 choices of vintage cigars, cigar accessories, pipes, tobacco and tobacciana.
"Cigar smokers in Western Connecticut not only have a place to buy cigars… but also a place to enjoy them," its website says. "Big Buddha consists of a retail store, a public smoking lounge and a members-only lounge."
Over the years, the Big Buddha Cigar Lounge has kept the legacy of its location by providing both a unique pastime and an attraction for residents. It also hosts community events in Hawleyville, including a recent fundraiser for the Avielle Foundation that took place earlier this summer.
Want to learn more about a specific historic place in Newtown? Send suggestions to trade journalist Alissa Silber at alissa@thebee.com or call 203-426-3141.
William Upham's Japanese Tea Garden opened in June 1928 and has become a popular attraction for residents. Inside the building was a tea room with Mr. Upham's collection of Chinese and Japanese furniture and antiques, while outside was an oriental garden. —Images of America: Newtown 1900 to 1960 photo
What was once Upham's Japanese tea garden in the late 1920s / early 1930s is now the Big Buddha Cigar Lounge in Hawleyville. The view from the backyard on August 28 shows the building, on the far right, along with a foyer with seating and the original pond which is now surrounded by lush greenery. —Bee photo, silver
The Big Buddha Cigar Lounge, 27 Hawleyville Road, currently occupies the former site of the Upham Japanese Tea Garden, which closed over 80 years ago. —Bee photo, silver
Inside the Big Buddha Cigar Lounge is an archway that pays homage to the property's past by displaying a variety of old framed photographs that show what the building and grounds originally looked like. —Bee photo, silver
An old framed photograph at the Big Buddha Cigar Lounge appears to show the interior of William Upham's Japanese tea garden with its many antiques. —Bee photo, silver
William Upham's Japanese tea garden had a tea room with seating for guests, which is supposed to be shown in this old photograph now on display at the Big Buddha Cigar Lounge. —Bee photo, silver
The view from the back deck of the Big Buddha Cigar Lounge in Hawleyville shows seating as well as the pond that was once the focal point of the design of Upham's Japanese tea garden. —Bee photo, silver
William Upham extended the lake outside of his Japanese tea garden, pictured here around 1930, and created an island with an 18-hole miniature golf course. The island was connected to the mainland by rustic bridges. —Images of America: Newtown 1900 to 1960 photo
At William Upham's Japanese Tea Garden in Hawleyville, he built one of Connecticut's largest miniature golf courses on an island in the lake, as seen here in 1930. —Legendary photo by the people of Newtown
[ad_2]
Source link