Hoboken Historical Museum hosts Coffee Festival on Sunday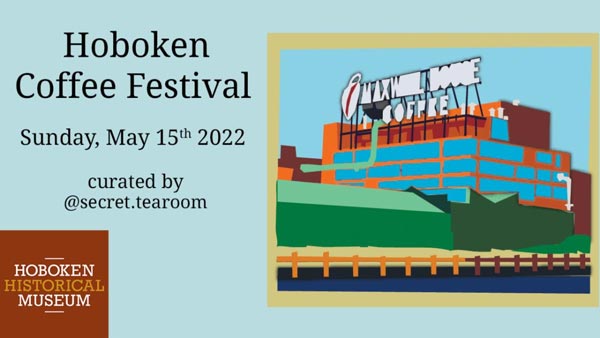 [ad_1]
NEWS | FEATURES | PREVIEWS | EVENTS
originally published: 05/11/2022
(HOBOKEN, NJ) — Hoboken Historical Museum presents the return of the Hoboken Coffee Festival on Sunday, May 15 from 10:30 a.m. to 3:30 p.m. Join them at an array of coffee and tea themed stalls in the Dockyard Passage as well as 4 ticketed events inside. The festival is organized by @secret.tearoom
Their 4 indoor event provides an opportunity to learn from the experts and connect with other caffeine lovers. Tickets are $15 per event and available for purchase in line. All ticket buyers will receive a free Museum mug, choosing from a wide variety of designs. The seats are limited. Proceeds go to the Museum.
11:00 a.m. – 11:45 a.m.: "Coffee Cupping" Travas Clifton, co-founder of modcup coffee. Travas Clifton explains how experts "tamp" coffee to savor the best brews and spot flaws. "Cupping" is a highly refined process of brewing a cup from freshly roasted and ground beans, to taste and assess qualities such as cleanliness, sweetness, acidity, mouthfeel and aftertaste. . The public will participate in a tasting and enjoy free coffees! modcup has been roasting its own beans since 2013 and has three locations and a truck in Jersey City.
12:00 p.m. – 12:45 p.m.: "Latte Art" Tats Mori-Ryan, bwe kafe. Tats Mori-Ryan explores the differences between a latte, a cappuccino and a flat white, and reveals the techniques and steps a barista takes to make them the best and most beautiful. Family owned and operated since 2013, bwe now operates 3 locations in Hudson County.
1:00 p.m. – 1:45 p.m.: "The espresso machine in history and its parts" Stephen Bellamy, Maverick Espresso Tech. Stephen Bellamy, of Boxwood roasters, discusses the historic discovery of the espresso machine and explains how it works, both in words and literally with the machine at your fingertips! Buis started with the founders roasting coffee beans in their garage. Since opening their first location in Summit, NJ in 2014, they have expanded to open two more in Westfield and Florham Park, complete with full roastery and kitchen.
Advertise with New Jersey Stage for $50-$100 per month, click here for more info
---
2:00 p.m. – 2:45 p.m.: "Good to the last drop? Maxwell House in Hoboken » Robert Foster, Hoboken Museum. The aroma of coffee roasting at the Maxwell factory once wafted over Hoboken. Explore those golden days and the lingering bitter aftertaste of permanent closure with the museum director.
Hoboken Historical Museum is located at 1301 Hudson Street in Hoboken, New Jersey. The museum collects and displays artifacts in themed exhibits on the history of Hoboken and offers educational programs, lectures, tours, and hosts films and plays. They are a registered 501(c)3 non-profit organization.
Advertise with New Jersey Stage for $50-$100 per month, click here for more info
---

[ad_2]
Source link