Hoboken Historical Museum showcases new works by Lou Carbone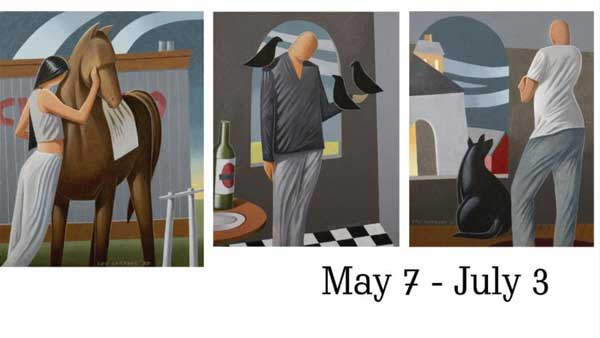 [ad_1]
NEWS | FEATURES | PREVIEWS | EVENTS
originally published: 05/04/2022
(HOBOKEN, NJ) — Hoboken Historical Museum presents the recent work of the master painter from Hoboken Lou Carbone in an exhibition called "COVID". The exhibition runs from Saturday May 7 to Sunday July 3 in the upper gallery. It consists of 25 16 x 20 acrylic paintings made under quarantine.
With various influences that include cubism, surrealism and Mexican muralists, Lou's paintings are a series of pictorial spaces born from personal experience filtered through dreams and illusions. Images of anonymous figures in common frames depict ritualistic events combined with feelings of sexual tension that are woven with elegant, silent movement.
Each canvas is a fusion of reality and fantasy that opens a window to lively but mysterious places. Many objects and figures are structured, ordered and linear, but they create elements that have references to the mystical and the spiritual, using multiple perspectives and intense colors. Lou developed an assortment of visual symbols with the aim of reducing cultural traditions and rituals to their essence and intensifying the relationships between his subjects. Its tools may be color, line and composition, but the imagery is formed by the visceral process of thought.
There will be an opening reception with the artist on Friday, May 6 from 2:00 p.m. to 5:00 p.m. On Friday, May 6 at 7:00 p.m., tune in and chat with Lou during an online artist chat with museum director Bob Foster on their Youtube channel. Past artist talks can be replayed at any time on YouTube.
The exhibit is supported by a block grant from the State/County Partnership Program for the Arts, administered by the Hudson County Division of Cultural Affairs and Heritage.
Advertise with New Jersey Stage for $50-$100 per month, click here for more info
---
Hoboken Historical Museum is located at 1301 Hudson Street in Hoboken, New Jersey. The museum welcomes visitors six days a week to view our exhibits, explore our books and gift shop, and participate in educational programs for all ages. Admission is just $5 (kids and members admitted free). The Museum is a 501c3 non-profit organization, founded in 1986.
Advertise with New Jersey Stage for $50-$100 per month, click here for more info
---
[ad_2]
Source link