Hoboken Historical Museum wraps up Poetry Festival on Sunday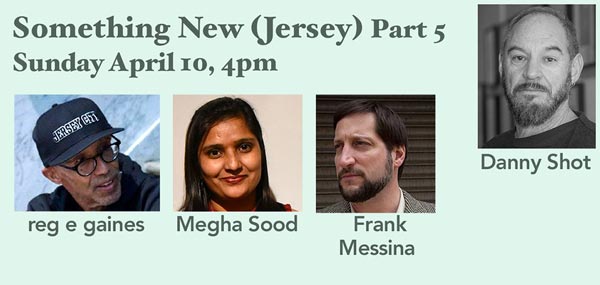 [ad_1]
NEWS | FEATURES | PREVIEWS | EVENTS
originally published: 04/06/2022
(HOBOKEN, NJ) – New Jersey poetry is as diverse as the cities and towns that make up our state. While New York City dominates the world of arts and literature, New Jerseyans work very hard just to be heard. Join Hoboken Historical Museum on Sunday, April 10 at 4:00 p.m. as they wrap up their Something new (Jersey) poetry festival that celebrates the voices of New Jersey, in this episode focusing on the underrepresented voices of NJ.
The Museum's poet-in-residence, Danny Shot, hosts the series. In addition to reading their own work, each poet will also read the work of a famous New Jersey poet. The Sunday April 10 event features poetry by Frank Messina, Megha Sood and reg e gaines. Host Danny Shot will also read the work of New Jersey poet Teresa Carson.
Frank Messina will also read the work of NJ poet Lillian Morrison. Frank Messina is a poet, actor and visual artist. Her work has appeared in The New York Times, Beloit Poetry Journal and on NPR, PBS and the BBC. Frank first gained recognition as a poet in the 1990s as the leader of the spoken word and music group Spoken Motion. He has collaborated with musicians Cecil Taylor, David Amram, John Popper and with members of Phish, Max Creek and the Grateful Dead. In 2013, his poetry diary from 2001 became part of the permanent collection of the 9/11 Memorial and Museum in New York. His baseball-related poetry was published in his best-selling book, Full Count: The Book of Mets Poetry (Lyons Press), earning him the team's unofficial title as Mets Poet. His poems have been adapted into short films and animation. As an actor, Frank has appeared in HBO's Boardwalk Empire, Martin Scorsese's The Irishman, and numerous independent films and documentaries. As a painter, his large abstract paintings are in private and public collections around the world. He lives in Jersey City with his son Liam Hudson.
Megha Sood will also read New Jersey poet Robert Pinsky. Megha Sood is a Pushcart-winning poet, editor, author and literary activist based in New Jersey, USA. She is an associate editor at MookyChick (UK), Life and Legends (USA) and literary partner of the "Life in Quarantine" project with Stanford University, USA. Advocacy member of the United Nations Association (UNS-USA chapter). Works featured in journals including Poetry Society of New York, NPR, WNYC Studio, PBS American Portrait, American Writers Review, Kissing Dynamite, Rising Phoenix Review and many more. chapbook author My body is no excuseFinishing Line Press, 2021 and integral My body lives like a threat, FlowerSongPress, 2022. Co-editor of The Medusa Project, Mookychick and The Kali Project anthologies, Indie Blu(e) Press. Recipient of the 2021 MVICW (Martha's Vineyard Institute of Creative Writing) Poet Fellowship, winner of the 2020 Spring Mahogany Lit Prize nationally, and three-time state-level winner of the NJ Poetry Contest. Mayor's Certificate of Excellence recipient, Stephen Fulop, Jersey City. New Jersey. Performance venues include the New York Poetry Festival, Paterson Poetry Festival, Nuyorican Cafe, Hudson County Community College, Historic Apple Tree House and many more. Blogs at meghasworldsite.wordpress.com. Tweets to @megasood16
reg e gaines will also read the work of New Jersey poet Amiri Baraka. reg e gaines is a poet, playwright, director, lecturer and artistic director of the Downtown Urban Arts Festival in New York since 2007. This two-time Tony Award-nominated playwright and Grammy-nominated lyricist is the writer of the Tony Award-winning musical Bring in da Noise / Bring in da Funk. reg is the author of four books of poetry including, The original buckwheat and Abstract Sax, is a former Nuyorican Poets Cafe Grand Slam Champ and appears in numerous poetry anthologies including Bum Rush The Page, Paterson Literary Review, Aloud: Voices From The Nuyorican Poets Cafe and A Year in Ink. reg has recorded two poetry albums, Please don't take my Air Jordans and Sweeper don't clean my streetsfor Mercury Records.
Advertise with New Jersey Stage for $50-$100 per month, click here for more info
---
Hoboken Historical Museum is located at 1301 Hudson Street in Hoboken, New Jersey. The museum (founded in 1986) collects and displays artifacts in themed exhibits on the history of Hoboken and offers educational programs, lectures, tours, and hosts films and plays. They are a registered 501(c)3 non-profit organization.
Advertise with New Jersey Stage for $50-$100 per month, click here for more info
---
[ad_2]
Source link