The Hoboken Historical Museum continues its poetry festival on Sunday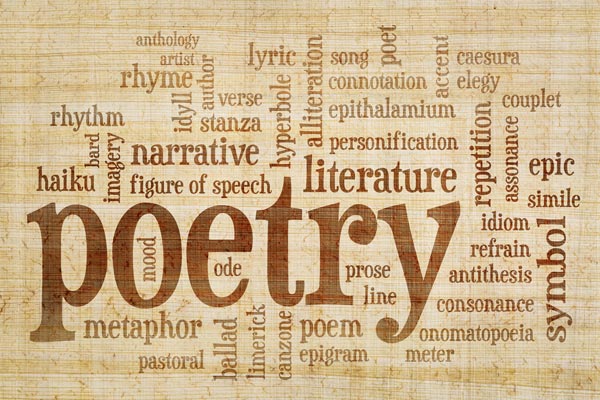 NEWS | CHARACTERISTICS | PREVIEWS | EVENTS
originally published: 03/31/2022
(HOBOKEN, NJ) – New Jersey poetry is as varied as the cities and towns that make up our state. While New York City dominates the world of arts and literature, New Jerseyans work very hard just to be heard. Join Hoboken Historical Museum on Sunday April 3 as they celebrate the voices of New Jersey, in the fourth installment of the Poetry Festival: Something New (Jersey) with a focus on underrepresented NJ voices.
The museum's poet in residence Danny Blow curated and hosts the series. In addition to reading their own work, each poet will also read the work of a famous New Jersey poet. The Sunday, April 3 event features poetry from RescuePoetix, Eliot Katz and Marina Carreira. Host Danny Shot will also read Teresa Carson's work.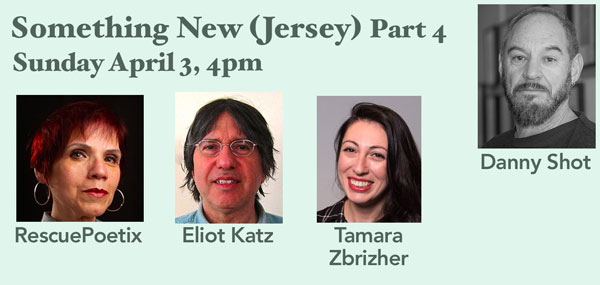 Susan Justiniano/Rescue Poetix will also read the work of Rosa Alcalá. She is the first female Puerto Rican Poet Laureate from Jersey City, NJ, and she found her performance voice in Jersey City. In 2006, RescuePoetix™ emerged as a professional artist company designed to meet the entrepreneurial, creative and collaborative needs of artists. In addition to being a published poet and performer, RescuePoetix™ has recorded over fifty original poems in music, English and Spanish, and is deeply immersed in the arts across communities through collaborations, writing grants, event production and active work in a variety of capacities from several arts organizations in Jersey City, Oradell, Paterson, NJ and private entities. In 2021, RescuePoetix placed 4th in the NAMI NJ Dara Axelrod Expressive Arts Poetry Contest with "Food is Family" and published three poems in the 2021 Boundless Anthology (Flower Song Press). She is the Puerto Rico representative for the 2021 Grand Marshall class for the Jersey City West Indian American Caribbean American Carnival Association and is listed in the Latino Book Review Database of Latino Poet Laureates in the United States. She is Poet-in-Residence for Walk_Bye Public Art, founded by Catalina Aranguren, Jersey City NJ. Susan is also a member of the Hudson County Community College Poetry Collective (Jersey City), as an advisor, contributor and event producer. She is also the Regional Manager for Free Mom Hugs NJ – Hudson County. She performs extensively throughout New Jersey and around the world.
Eliot Katz will also read the work of Allen Ginsberg. Called "another classic New Jersey bard" by Ginsberg, Katz is the author of seven books of poetry, including Love, War, Fire, Wind and Unlocking the Exits, as well as a prose book, The Poetry and Politics. of Allen Ginsberg. His most recent poetry book was a free pdf volume published on his website before the 2020 presidential election, titled: President Predator: Poems to Help Make America Trump-Free Again. He was co-founder, with Danny Shot, of the long-running literary magazine Long Shot, and served as co-editor with Allen Ginsberg and Andy Clausen of Poems for the Nation. Katz, whose late mother was a Holocaust survivor, worked for many years as an activist for a wide range of peace and social justice causes, including helping to create several housing and food programs for homeless families in central Jersey who are suing each other. He currently lives in Hoboken.
Tamara Zbrizher is a Ukrainian American poet. She received her MFA from Drew University and is currently pursuing her PhD there. Her work has been published in various journals and anthologies and has been nominated for a Pushcart Award and Best of The Net. She is the recipient of the 2021 NJ Poets Award. Her first complete collection Tell Me Something Good came out of Get Fresh Books in 2019. She lives in New Jersey with her son and recently purchased binoculars to more effectively crawl on birds in front of her window.
Advertise with New Jersey Stage for $50-$100 per month, click here for more info
---
Hoboken Historical Museum is located at 1301 Hudson Street in Hoboken, New Jersey. The museum (founded in 1986) collects and displays artifacts in themed exhibits on the history of Hoboken and offers educational programs, lectures, tours, and hosts films and plays. They are a registered 501(c)3 non-profit organization.
They are open six days a week in a 2,000 square foot space in one of Hoboken's oldest waterfront buildings, the former Bethlehem Steel Machine Shop, now known as the Shipyard.
They also publish books and walking maps, as well as a series of oral history collections documenting the diverse communities of Hoboken's recent past. Each exhibition offers a program suitable for local schools and youth groups.
Advertise with New Jersey Stage for $50-$100 per month, click here for more info
---