Thomas Edison Film Festival screenings at the Hoboken Historical Museum on September 18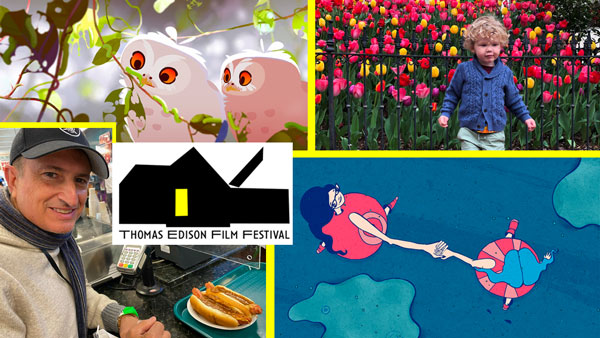 [ad_1]
NEW | FEATURES | PREVIEWS | EVENTS
originally published: 09/07/2022
(HOBOKEN, NJ) — On Sunday afternoon, September 18, 2022, the Hoboken Historical Museum and the Thomas Edison Film Festival (TEFF), will present a selection of short family films. The afternoon will begin at 4:00 p.m. when attendees will receive a Sabrett hot dog with condiments (or fresh popcorn) and soda. Hot dogs will be served down the aisle from the Museum's 120-year-old hot dog cart. At 4:30 p.m. they will go inside for the TEFF screening. There will be a Q&A with filmmaker David Baram and festival director Jane Steuerwald as well as special guests. Admission is $5 per person and donations are greatly appreciated.
Screening functions, "One all the way", the award-winning documentary by NJ native David Baram. Baram was born in Paterson and grew up eating more than his fair share of Hot Texas Wieners. He has produced over 100 television episodes. This is the first time he has made a documentary about hot dogs. Baram's film follows three old New Jersey men, including his father Harry, in search of the world's greatest Hot Texas Weiner. Along the way, they discover what happened to their hometown of Paterson, New Jersey. The film is a poignant journey that any hot dog lover will never forget. The filmmaker's father, Harry Baram, and fellow hot dog seeker, Larry, will also be on hand for a Q&A after the film's program. Documentary. 4 mins. by David Baram, LA, CA, USA.
Shooom's Odyssey – Entertainment. 26 mins. by Julien Bisaro, Paris, France. Shooom, a baby owl, hatches just as a storm upends the bayou surrounding his tree. Barely fallen from its nest, the little bird rushes into the mangrove, pushing with it a second egg from the clutch. Against all odds, she is determined to find a mother…even if that mother turns out to be an alligator or a raccoon!
My brother is Deaf – Documentary. 10 minutes. by Peter Hoffman Kimball, Bethesda, MD, USA. A moving and personal film told through the heart and mind of a boy with a deaf younger brother. When his family learns that his younger brother is deaf, he and his family do their best to get to know his younger brother and what it means to be deaf.
A hand to hold – Entertainment. 2 min. by Stacey Davis and Ali Clark, Homewood, AL, USA. Told from alternate points of view, "A Hand to Hold" explores the common thread of parent-child handling. When mother and child let go of their hands – and enjoy the freedom that comes from letting go – they do so knowing that they will always be together.
Advertise with New Jersey Stage for $50-$100 per month, click here for more info
---
For 41 years, the Thomas Edison Film Festival advanced the unique creativity and power of the short form. The festival is an international juried competition open to all genres and filmmakers from around the world. The festival's touring program caters to diverse audiences in diverse settings with screenings of cutting-edge, multi-genre films including narrative, experimental, animation and documentary films.
The home base of the festival is the Hoboken Historical Museum where we work together to enrich the community. This program is made possible in part through the generous support of the Hudson County Office of Cultural Affairs and Heritage and Tourism and the Hoboken Historical Museum. The museum is located at 1301 Hudson Street in Hoboken, New Jersey.
---
Since 1981, the mission of Thomas Edison Film Festival (TEFF) was to promote innovation in the art of the moving image, and the films that are the centerpiece of the festival honor Edison's vision.
Edison's films did for the eye what his phonograph did for the ear. He made 75 twenty-second feature films in his West Orange studio. His early films featured magic shows, plays, vaudeville shows with dancers and strongmen, cowboys and boxing matches.
The festival's relationship to Thomas Edison's invention of the motion picture camera and kinetoscope and his experimentation with short film is an essential part of our mission. Short films are the essence of the festival – not a sidebar for feature films. TEFF is not a conventional destination film festival, nor a single-city festival, nor a gala event. It is a socially conscious, modern and fiercely independent traveling showcase for short films, reaching out to diverse audiences with provocative, timely, cutting-edge and compelling new works by accomplished and emerging filmmakers.
TEFF is an international jury-based film competition. We advance and support the work of diverse filmmakers from the United States and around the world. These artists often represent an underserved constituency that may not have the opportunity for live public exposure.
The Thomas Edison Film Festival welcomes all genres, including narrative, experimental, animation, documentary, screen dance and hybrids. We celebrate films that address the environment, race and class, immigration, the LGBTQ+ community, people with disabilities, and social justice issues. The films we celebrate are artistic, empathetic and engaging works that both teach and entertain.
[ad_2]
Source link